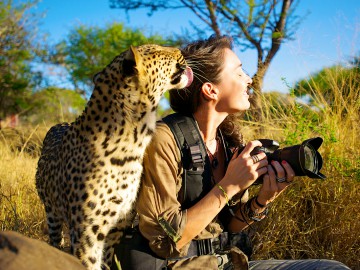 Shannon Wild
I'm an Australian wildlife photographer, author and presenter based in Africa and an official contributing photographer and cinematographer for WildAid.  
One of my greatest motivations is to create images that ignite a sense of fascination and appreciation in the viewer but more so to encourage involvement and responsibility in their preservation.
I am in a very privileged position to work outside and surrounded by wildlife. I never lose sight of the fact that I get to see animals in the wild that some people may never get to, whether by proximity or impending extinction. It's tragic to think that many people are not even aware of the serious plight of some animals, but there are also many people trying to change that, dedicating their lives to protecting the natural world and its stunning inhabitants. I'm often lucky to meet these people in my line of work.
I've been involved with many wildlife conservation programs in various countries over the years and used to be a volunteer wildlife carer/rescuer when I was still based in Australia. I specialized in reptile rescue and rehabilitation but work with all animals including bats, birds and mammals too. Now, on the ground in Africa my focus is especially on endangered African wildlife.
Shannon Wild Social Handles
WEBSITE: www.shannonwild.com
INSTAGRAM: https://instagram.com/Shannon__Wild
FACEBOOK: https://www.facebook.com/ShannonWild
TWITTER: https://twitter.com/Shannon__Wild
Assignments