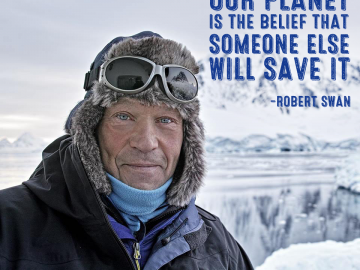 Robert Swan
Robert Swan
Raised in Yorkshire, England, Robert Swan is the first person in history to walk to both the North and South Poles. After seeing first hand the effects of Climate Change, Robert has dedicated himself to protecting Antarctica and our planet at large. Positive participation and a committed team have enabled Robert to connect with people across the globe.
His contribution to education and the environment have been recognized through his appointment as United Nations Goodwill Ambassador for Youth, a Visiting Professorship of the School of Environment at Leeds University and in 1994 he became Special Envoy to the Director General of UNESCO.
Robert Swan, the first person to walk to both the North and South Poles, has been working side- by-side with his son Barney for the past 5 years. Together they are joining forces to ski 60 days to the South Pole surviving off renewable energy, a feat never attempted before. This expedition marks the launch of The ClimateForce Challenge, a campaign to clean up 326 million tonnes of C02 before the year 2025. The below expeditions will be the platform to launch the 7 year mission.
CF: South Pole Energy Challenge (SPEC)- Nov 12th 2017 – Jan 14th, 2018
A 600 mile, 60 day journey on ski to the South Pole surviving off renewable energy for the first time.
CF: IAE Antarctica '18 – Feb 27th – March 12th, 2018
A two week Voyage to Antarctica to amplify the campaign and SPEC. 100 people from 38
nations and various industries will join.
CF: Trans America Cycle – May 1st – October 1st, 2019
7 Month journey cycle across the heart of the USA to engage schools, colleges, businesses, and communities to join The ClimateForce Challenge.
Throughout these expeditions, Robert and Barney will be working with industry leaders, educators, students, foundations, and outreach programs to stimulate people with active solutions surrounding energy on both a personal, and/or infrastructure level.
Personal Solutions Examples
-Ring up your local utility provider and demand green energy.
-Consider your diet and the lifecycle of the products that support your lifestyle. -Engage in consumer and policy census: make your voice heard.
Infrastructure Solutions Examples
-Eradicate food deserts, promote water projects, and distribute clean cooking stoves. -Install solar, wind, hydro, and geothermal micro systems in home/ community. -Support renewable technologies which are cleaning CO2 straight out of the air.
Assignments