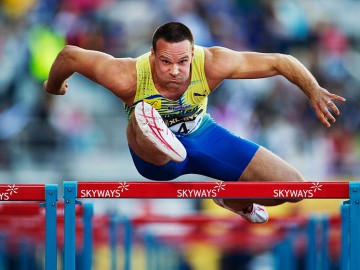 Robert Kronberg
Robert Kronberg is Sweden's best male 110m hurdler of all time.
It was 18 years old at the World Athletics JVM in Lisbon, where Kronberg was close to the final, which he first realized that he should go for an international career. The following year he came second in JEM in Hungary and changed the club from IFK Gothenburg to IF Kville.
As a senior, he is one of the few Swedish athlete who reached the finals in both the European and World Championships and the Olympics. His best investments are: a bronze in the 60 meter hurdles at the European Indoor Championships in 2005. Fifth place at the World Athletics Championships 2001 (time: 13.51 sec.)
Personal best and also the Swedish record stands at 13.35, set in Lausanne 4 July 2001.
Kronberg did: 14 finn struggles (won 11 of these) 13 European Cups, where he won the "super league finale" in 2004. 3 caps in the short relay (2 finn struggles and a European Cup) etc.
Today Robert is suporting The Perfect World Foundation as an ambassador to stop the poashing of Rhinos and Elepfant and to stop the wildlife trade.
Assignments