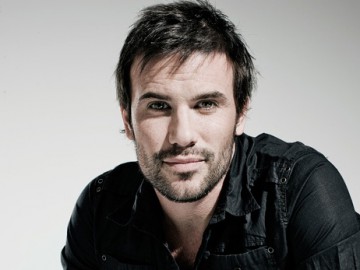 Martin Stenmarck Honorable Ambassador
Martin Olof Jon Stenmarck, born October 3, 1972 in Täby, Stockholm County, is a Swedish singer grew up in Örebro with eleven siblings. He has musical roots. His grandmother was Julie Bernby and his grandfather was Olof Gemvik.
STENMARCK started early with music as a teenager and had a Lord of the Rings-inspired heavy metal band called Lorien. In 1991, Martin, along with his younger brother David, the national finals of Talent -91 live on Swedish television TV1. STENMARCK moved to Stockholm and worked as a model and as a singing waiter at Wallman Salons where also his career took off. 1992 was the lead singer of the band Sha-Boom and released two singles with them.
When he left there in 1997, he put, comedian Håkan Berg, musician Mike Svahn and technician Joacim Fagerström up a show called Show duel. The theme of the show was simple, but varied ad absurdum: Martin, the talented pop star, is disturbed by an old childhood friend, the talanglöse Hakan who want to steal a little limelight, after which it flows into the different types of bizarre competitions for the audience's favor. The result was that Martin STENMARCK barely got to sing more than 15 seconds of each song before any unexpected occurred, ranging from sawed a hole in the wall with a chainsaw, to a giant seagull fell from the ceiling. So much singing was not, but the more laughter.
Show duel toured Sweden in 1997 and 1998 and was played upon Mosebacke 1998 Summertime Örebro 1999 Christmas shows at Teatrix 1999 Grönalund Theatre in spring 2000.
STENMARCK has had great success in the musical industry. He has starred in including Rectal Banjo and West Side Story. Martin STENMARCK toured several summers with Robert Wells' Rhapsody in Rock show.
In 2005, STENMARCK in Melodifestivalen, race 3 in Skellefteå. With a grand Las Vegas show, he went on to the finals and won the race. He traveled to Kiev, Ukraine, and represented Sweden at the Eurovision Song Contest 2005 on May 21 with the song "Las Vegas", which came in 19th place out of 24 participating countries in the final.
He toured the summer of 2005 in Sweden, with the so-called Tent Project including in Gothenburg, Varberg, Malmö and Stockholm.
In September 2006, he released his first single in Swedish; "7milakliv", which ended up first on the Swedish singles chart for seven weeks. It is said that he got the inspiration for the song after a wild night out that ended in the fill cell and an investigation of violence against the officer, which STENMARCK himself commented, "Everyone makes mistake and drinking too much one night … And who has not wanted to put down a doorman? ". He released his latest album on 25 October 2006 This is his first (own) album containing songs in Swedish. His latest single is called "Rubb and stubble."
He even made the Swedish dubbing and a few songs to Spirit – Stallion of the Cimarron, where he makes a starring Spirit, and the Disney movie Cars, which also makes him starring Lightning McQueen (a race car).
Since 2006, he toured with the revue Ladies Night.
Martin STENMARCK has always had a keen interest in sport and in 2010 he made an acclaimed start in one of the world's most spectacular races in mountain biking. Along with the captain of the national team MTB Andreas Danielsson, he participated in the ten-day course Yak Attack in Nepal. The contest, which runs along the Annapurna Circuit reaches a peak 5416 m above sea level. STENMARCK Danielsson and finished in seventh and eighth place. The month-long journey which was documented in the film, photography and sound recordings through later became a production called "Coffee at Everest" as Martin-produced with Andrew. In January 2013 had coffee at Everest sold platinum.
STENMARCK participated in Melodifestivalen 2014 with the song "When the angels go home" and went on to Second Chance. In the second chance he was eliminated in the duel against Linus Sven wizard "Brothers" and therefore did not advance to the final.
Assignments