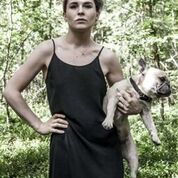 Linn Stålberg
Swedish Horns was born with a vision to allow people to become part of the art.
We exclude no-one and invite people to use our garments to embrace their own beauty.
The concept of Swedish Horns is based upon the animal kingdom with the vast array of colours, expressions and the natural way of living. The clothes are designed as an extension of the users own personal style and not just a piece of clothing.
No one is less, so why show less?
Company: SwedishHoms
Instagram: linnstalberg&swedishhorns
Website: swedishhorns.com
Assignments