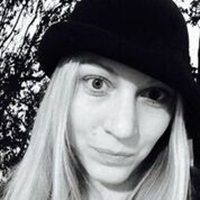 Kristin Bäckström
Kristin received her journeyman's certificate as a milliner in 2009, after a two year study at Tillskärarakademin in Gothenburg. During the autumn of the same year she started working as a freelancer and sold hats and accessories to Butik Kubik – a jewellery and clothing store – in Gothenburg, as well as renting stalls at various designers markets around Gothenburg and Varberg.
Eventually, she began taking custom orders, and have been sewing for theatre, artists, weddings etc.. Late in 2011 she was taking part in an exhibition in Mora.
Her daughter was born in 2012, and the following couple of years left little room for pursuing my craft. During 2014 she began studying to become a Leisure Time Pedagogue and art teacher, which has reminded her how much she misses the creative process and the openness – in terms of interpretation – of the artistic language. At the time being, the inspiration phase of creating a new collection.
Company: Freelancing Milliner
Email: info@kristinbackstrom.com
Website: www.kristinbackstrom.com
Assignments