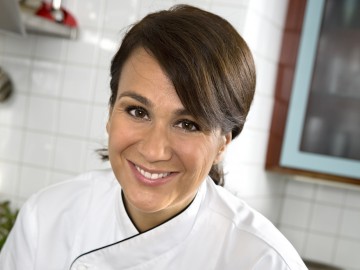 Alexandra Zazzi
Alexandra Maria Paula Louise Jademyr Zazzi, född 7 juni 1966, växte upp i Genoa, Italien, är en svensk kock och journalist. Hon är också den första kvinnliga vinnaren av dokusåpan Robinson.
Zazzi har efter Robinson varit värd för matprogram i TV4 och Meny i Radio P1. Dessutom har hon varit reporter i The Vanishing på TV3, och deltagit i många andra radio- och TV-program. Zazzi skriver om mat och göra artiklar för flera tidningar. Hon är en kolumnist för Göteborgs-Posten och frilansande matskribent för olika tidningar. Varje lördag talar hon om matklassiker i P4 Extra.
Alexandra är involverad i olika välgörenhetsorganisationer och sommaren 2014 cyklade hon till Paris för Barncancerfonden.
Hon springer årligen Göteborgsvarvet för Stadsmissionen och serverar sin tomatsoppa vid målområdet.
2014 är ett tufft år för många utrotningshotade djur. Alexandra, tillsammans med flera andra en ambassadör vill öka medvetenheten om hur man kan göra skillnad genom The Perfect World Foundation och Rädda Rhino 2014.
Assignments