The Conscious Network
Project overview
---
---
The Perfect World.com is a social, internet-based network, also known as "The Conscious Network", with the purpose of connecting people and organizations in a joint effort to spread awareness about global crises.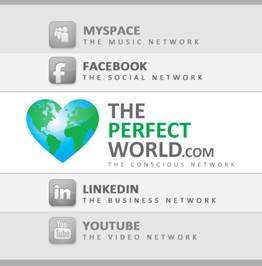 The ambition when starting up the network was to get 10,000 people to enter during the first year of running. However, we had more than 10 million people entering the site and the network crashed. The Perfect World is a success and we are now building a new platform to make sure that we will be able to meet the high influx of conscious people who are passionate about animals and the environment.
Please keep your eyes open, and join our mailing list, while waiting for the new platform, in order to be signed up as the first "new" members of The Conscious Network. If you are already a member, your details will be transferred to the new site.