The Perfect World Foundation, is celebrating World Elephant Day by supporting WildlifeDirect to take 100 children to Samburu National Reserve together with The Embassy of United States in Kenya and Kenya Wildlife Service. Please read the full article from WildlifeDirect below.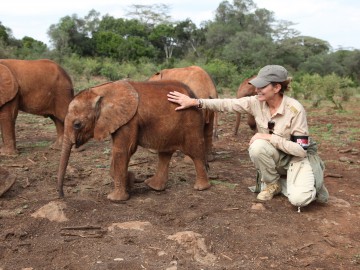 This week, WildlifeDirect is celebrating World Lion Day and World Elephant Day by taking 100 children to Samburu National Reserve for a 3-day camping expedition from August 12-14. The expedition brings together participating children aged between 9-14 years of age, drawn from 7 schools in Nairobi's urban slums, from Laikipia and Samburu.
World Lion Day is marked on August 10 and World Elephant Day on August 12 to raise awareness about the plight facing elephants and lions and also to encourage people around the world to work together to support the conservation of these magnificent creatures.
To celebrate these days this year, WildlifeDirect has partnered with the Perfect World Foundation, the Embassy of the United States of America to Kenya, the Kenya Wildlife Service, Save the Elephants, Ewaso Lions Project, Samburu National Reserve, and the Mpala Research Center.
These field trips are much more than a day out for the children, they are an opportunity for discovery, learning and fun. Children will work with scientists to study the elephants and lions, record data and engage Samburu elders in conversations about the culture and heritage. Kenya's Richard Turere, the inventor of Lion Lights, a device used to deter lions from livestock, will be with the children attending the day. WildlifeDirect is conducting this camping tour with children following recommendations from young Kenyans a year ago that children want to visit parks and undertake meaningful activities to help conserve the national heritage.
WildlifeDirect is a Kenya and US-registered charitable organization founded by Richard Leakey and chaired in Kenya by Senior Advocate and former Director of Public Prosecutions, Philip Murgor. WildlifeDirect campaigns for justice for wildlife to ensure Africa's magnificent wildlife endures forever.