Many conservationists works with the important task which is protecting animals from poaching, but WildAid's mission is to end illegal wildlife trade in our lifetimes. They want to see a world where people no longer buy wildlife products such as shark fin, ivory and rhino horn.
WildAid has a huge portfolio of celebrity ambassadors and a global network of media partners which helps them to get nearly $200 million in annual pro-bono media support.
The slogan of WildAid; "when the buying stops, the killing can too" says a lot. TPWF founders, Lars and Rags Jacobsson, said:
"We need to fight wildlife trade and poaching from different angles. We believe the awareness WildAid spreads makes a huge impression, especially on policy makers."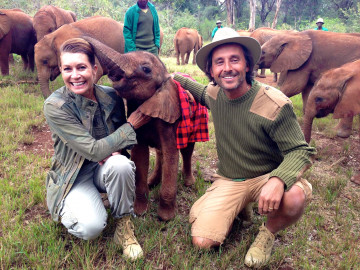 TPWF founders, Rags and Lars Jacobsson
The news about China's announcement to ban domestic ivory trade was fantastic news for conservationists around the globe. One can imagine that WildAid's work had impact on the decision. Yao Ming, former NBA star and WildAid ambassador, was first to propose the ban to the National People's Congress.
After Chinas announcement,the world's attention is now on Japan, who voted against all CITES proposals to protect elephants.
WildAid CEO Peter Knight said:
"Japan is the last man standing as a major legal destination for ivory. If Japan joined the global community on this we could consign the abuses of the ivory trade to history."
WILDAID: What We Do from WildAid on Vimeo.