Today we are spending more efforts to find out about the possibilities to live on another planet, than the possibility staying alive on our own. This is something we now want to put an end to through our new co-operation.
The Perfect World Foundation is proud to announce the new co-operation with the ambition to save the ocean.The new project is all about investigating the human effects on the deeper oceans, "Deep HOPE".
"We know more about deeper space than the deeper ocean" – Dr Sylvia Earle.
The Deep HOPE program will focus on ten different sites for expeditions over the first five years. These sites have been chosen due to either their unique marine environment features or the significant events they have experienced (man-made or natural) where comparative deep diving can benefit science below traditional diver depths (50m). The Deep HOPE submersibles will be operated in collaboration with scientists, artists and conservationists from each region.
Dr Sylvia Earle, this years award winner of The Perfect World Foundation's "The Conservationist of the Year 2017" is behind the new project, together with her daughter Liz Taylor, Michael AW, Heather Brown & Tom Gruber. The Perfect World Foundation will do what ever we can to support this very important mission.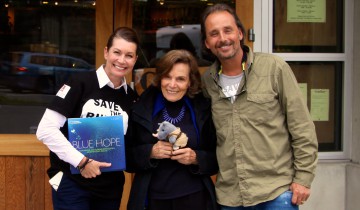 Please donate and mark your donation with "Deep HOPE"