THE INSTANTDREAMS EXHIBITION FOR THE DOCUMENTARY INSTANT DREAMS
"There is a ghostly uncertainty about many of the human experiences found in Stefanie Schneider's subject matter. Some so empty and fragmented, a mirror of what has become of contemporary America. The recording of a phenomenon. A documentary of decay. Capturing the American dream as it slips away.""There is a ghostly uncertainty about many of the human experiences found in Stefanie Schneider's subject matter. Some so empty and fragmented, a mirror of what has become of contemporary America. The recording of a phenomenon. A documentary of decay. Capturing the American dream as it slips away.

-Banksy

"I never remember the details of a Stefanie Schneider image, just the whole. She treads a third path between reality and dream that connects the two and truly sparks my artistic, visual freedom."

-Marc Forster
August 31st, 2-8pm
and September 1st , 2-6pm in Berlin Weißensee
We cordially invite you to be part of a unique Instantdreams experience,
Stefanie Schneider is showing new and rarely seen works and unveiling the Stefanie Schneider
Instantdreams App, as well as her new Virtual 3-D Gallery project.
On the edge of Berlin, in the outer suburb of Weissensee, the artist Stefanie Schneider works in her dream lab factory, producing analog artworks based on the expired Polaroid material she's been using for over 20 years. Dedicating an entire artistic career on a vanishing medium may seem like a risky dream but the revival of analog is growing.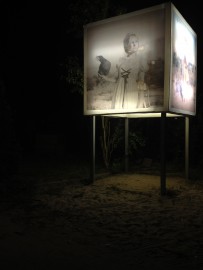 At this moment, the feature documentary "Instant Dreams" is being filmed by Dutch film maker Willem Baptist about the magic of the Polaroid medium. Stefanie's work plays the artistic role in this film and last June Willem and his team came to California to film Stefanie working on her newest project. In this context, Willem will film Stefanie's post production in her Berlin studio and next door in the large industrial hall Stefanie's Instantdreams exhibition for the purpose of achieving immortality in his documentary.
We are proud to announce "The Perfect World Foundation" as a charity and gallery partner for our event. TPWF is a Scandinavian based independent, non-profit organization established in 2010 to raise awareness, funding, and to take action together with animal and nature conservation projects around the world (www.theperfectworldfoundation.org) Stefanie was first involved with the PWF in 2014 at their gala art auction in Sweden with two donated artworks. This year she has donated more art for this meaningful charity auction.
Selected works from the exhibition will be auctioned on ebay ending on the evening of September 1st: Please visit www.ebay.de/usr/polaroids69
As you see, we have ambitious plans. We need your support!
On August 31st at 4pm, 5pm and 6pm, Stefanie will guide you through her recently finished studio, which is
located right next to the gallery exhibition. Take the opportunity and sign up for a personal tour with Stefanie. R.S.V.P.
I'm looking forward to seeing you in Berlin-Weissensee.
Stefanie Schneider
Go to invite and prices with links below
Invite Stefanie Schneider's instantdreams Berlin 31 August – 2 September