Deep HOPE's purpose is to explore the deep parts of the ocean to gather scientific data on how the ecosystem that exists in deep parts of the ocean (below levels sunlight does not reach) really feels. The goal is to study deep-sea areas in several places around the world identified as important, "Hope Spots", by Dr. Sylvia Earle.
Deep HOPE will focus on ten different locations for expeditions during the first 5 years. The sites have been chosen because of the unique environmental characteristics, or the significant events (caused by human or natural impact) that they have experienced or encountered. Here, comparative deep diving can benefit research deeper under traditional depths (50 meters).
"Nothing else will matter if we fail to protect the ocean. Our fate and the ocean's are one." – Dr Sylvia Earle
Only 28% of the Earth's oxygen is produced by rain forests. Therefore, the health of marine plants (kelp, algal plankton and phytoplankton) is crucial for every breath you take. Dr Sylvia Earle has estimated that only one type of phytoplankton, especially Prochlorococcus, is responsible for giving oxygen to one of every fifth breath you take. Our ability to keep these vital marine plants alive and healthy depends on a complete understanding of their habitat and ecosystems. Deep HOPE will explore these ecosystems, collect data and help researchers find ways and means to keep these essential marine organisms functioning for our benefit.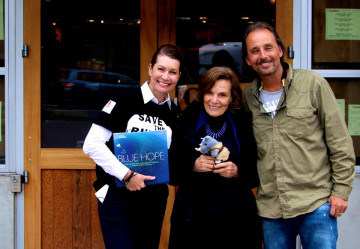 To achieve this, The Perfect World Foundation will support Deep HOPE. As a start, TPWF's founder Lars and Rags Jacobsson have been appointed as part of Deep HOPES "council", which consists of members who have extensive experience in informing and advising on the organization's future. This "council" also includes Dr Sylvia Earle, Emory Kristof and Howard Shaw. Together with the organization's board consisting of Michael AW, Tom Gruber (co-founder of Siri) and Heather Brown and the rest of the Deep HOPE team the hopes are that the organization will be at the forefront and find ways to support the development of the most groundbreaking technology to explore the depths of the ocean.