"The Oceans Is Dying" says Dr. Sylvia Earl. The Perfect World Foundation will meet with Dr. Sylvia Earl, in San Fransisco early 2015,  to find out what could be do to stop the increase of "dead zones" and what can be done to "Save Our Oceans".1975 there was one "Dead zone" today we could count up to 500 dead zones. Is the "Hope Spots" is one of the solutions.
 Dr. Sylvia Earl, the by far most experienced oceanographers in the world. 
– 50% of all corral reafes are gone since 25 years.
– 98% of the great sharks are extinct since 1970.
– 95% of the Pacific bluefin tuna are extinct.
– 95% of the north atlantic cod are extinct.
– Dead zones have gone from 1 in 1975 to 500 in 2014.
– The ice cover in the Arctic are the lowest ever and is predicted to be ice free in 2016.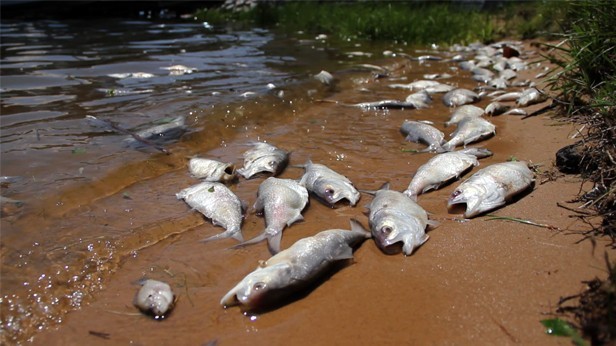 Dead Zones:
Dead zones are hypoxic(low-oxygen) areas in the world's oceans and large lakes, caused by "excessive nutrient pollution from human activities coupled with other factors that deplete the oxygen required to support most marine life in bottom and near-bottom water. In the 1970s oceanographers began noting increased instances of dead zones. These occur near inhabited coastlines, where aquatic life is most concentrated. (The vast middle portions of the oceans, which naturally have little life, are not considered "dead zones".)
Aquatic and marine dead zones can be caused by an increase in chemical nutrients (particularly nitrogen and phosphorus) in the water, known as eutrophication. These chemicals are the fundamental building blocks of single-celled, plant-like organisms that live in the water column, and whose growth is limited in part by the availability of these materials. Eutrophication can lead to rapid increases in the density of certain types of these phytoplankton, a phenomenon known as an algal bloom.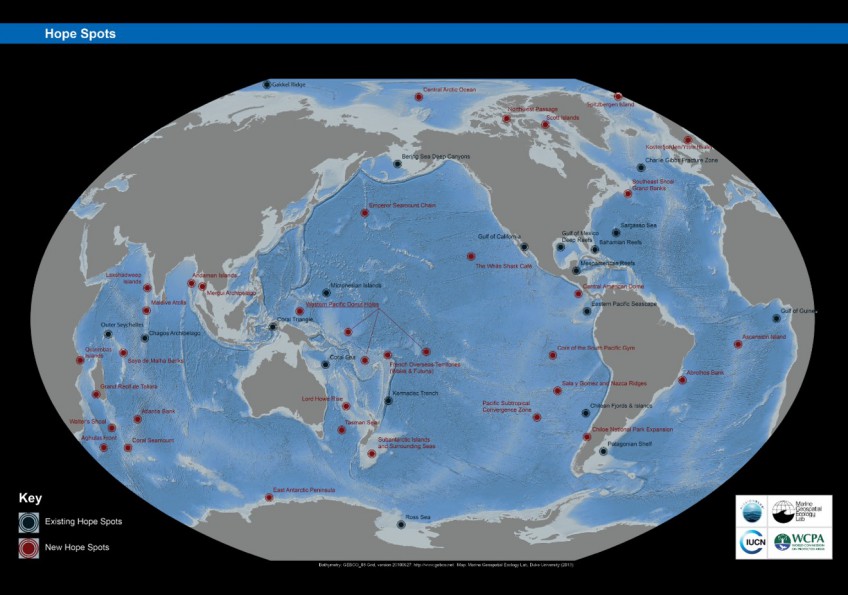 Hope Spots:
Hope Spots are special places, created by Sylvia Earl and here Mission Blue, that are critical to the health of the ocean — Earth's blue heart. Some of these Hope Spots are already formally protected, while others still need defined protection. About 12% of the land around the world is now under some form of protection (as national parks, world heritage sites, monuments, etc.), while less than three percent of the ocean is protected in any way. Networks of marine protected areas maintain healthy biodiversity, provide a carbon sink, generate life-giving oxygen, preserve critical habitat and allow low-impact activities like ecotourism to thrive. They are good for the ocean, which means they are good for us. We are often asked, "How much protection is enough?" We can only answer with another question: How much of your heart is worth protection?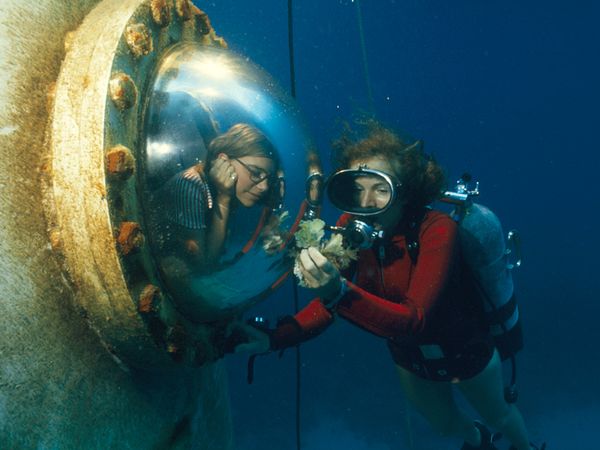 Sylvia Earl:
National Geographic Society Explorer-in-Residence Dr. Sylvia A. Earle, called "Her Deepness" by the New Yorker and the New York Times, "Living Legend" by the Library of Congress, and first "Hero for the Planet" by Time magazine, is an oceanographer, explorer, author, and lecturer. She has experience as a field research scientist, government official, and director for corporate and nonprofit organizations, including the Kerr McGee Corporation, Dresser Industries, Oryx Energy, the Aspen Institute, the Conservation Fund, American Rivers, Mote Marine Laboratory, Duke University Marine Laboratory, Rutgers Institute for Marine Science, the Woods Hole Oceanographic Institution, National Marine Sanctuary Foundation, and Ocean Futures.
Formerly chief scientist of NOAA, Earle is the founder of Deep Ocean Exploration and Research, Inc., founder of Mission Blue and SEAlliance, and chair of the Advisory Councils of the Harte Research Institute and the Ocean in Google Earth. She has a B.S. degree from Florida State University, M.S. and PhD. from Duke University, and 22 honorary degrees. She has authored more than 190 scientific, technical, and popular publications; lectured in more than 80 countries; and appeared in hundreds of radio and television productions.
Earle has led more than a hundred expeditions and logged more than 7,000 hours underwater, including leading the first team of women aquanauts during the Tektite Project in 1970; participating in ten saturation dives, most recently in July 2012; and setting a record for solo diving in 1,000-meter depth. Her research concerns marine ecosystems with special reference to exploration, conservation, and the development and use of new technologies for access and effective operations in the deep sea and other remote environments.
Her special focus is on developing a global network of areas on the land and in the ocean to safeguard the living systems that provide the underpinnings of global processes, from maintaining biodiversity and yielding basic life support services to providing stability and resiliency in response to accelerating climate change.
Earle is the recipient of more than a hundred national and international honors and in 2014 was named a Glamour Woman of the Year. Other honors include the 2011 Royal Geographical Society Gold Medal, 2011 Medal of Honor from the Dominican Republic, 2009 TED Prize, Netherlands Order of the Golden Ark, Australia's International Banksia Award, Italy's Artiglio Award, the International Seakeepers Award, the International Women's Forum, the National Women's Hall of Fame, Academy of Achievement, Los Angeles Times Woman of the Year, and medals from the Explorers Club, the Philadelphia Academy of Sciences, Lindbergh Foundation, National Wildlife Federation, Sigma Xi, Barnard College, and the Society of Women Geographers.