Going into effect in December 2017, the agreement will create a blanket ban on commercial fishing across three-quarters of that area. In the remaining zones, some commercial fishing will be allowed.
Secretary of state John Kerry said the agreement "will safeguard one of the last unspoiled ocean wilderness areas on the planet — home to unparalleled marine biodiversity and thriving communities of penguins, seals, whales, seabirds, and fish."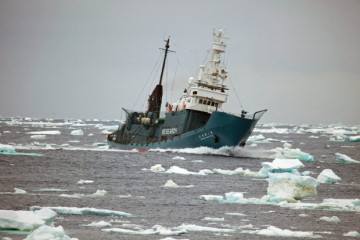 A Japanese harpoon whaling vessel sails through in Ross Sea off Antarctica in 2010
The Perfect World Foundation is during 2017 focusing on the oceans through the campaign "Save The Ocean", that will end the 14th of September in Gothenburg, Sweden with a huge fundraising and awareness event, "The Ocean Ball", where Dr. Sylvia Earl will not only be the guest of honour, but will also be awarded the prestigious award "The Conservationist Of the Year 2017".