Durring the Summer of 2015 The Perfect World Foundation is decorating one of Europes largest hotels, Gothia Towers in Gothenburg, with Elephants and Rhinos to raise awareness around the extinction of Asian Elephant. TPWF is working close with UK based Elephant Family and The Quintessentially Foundation and durring this year funding the campaige Travells to my Elephant.
The event is inspired by Elephant Family's late founder and passionate conservationist, Mark Shand, and his best-selling book, Travels on my Elephant. The campaign aims to raise a total of £1 million, which will go towards securing a series of pioneering elephant corridors in Asia and other Elephant Family projects.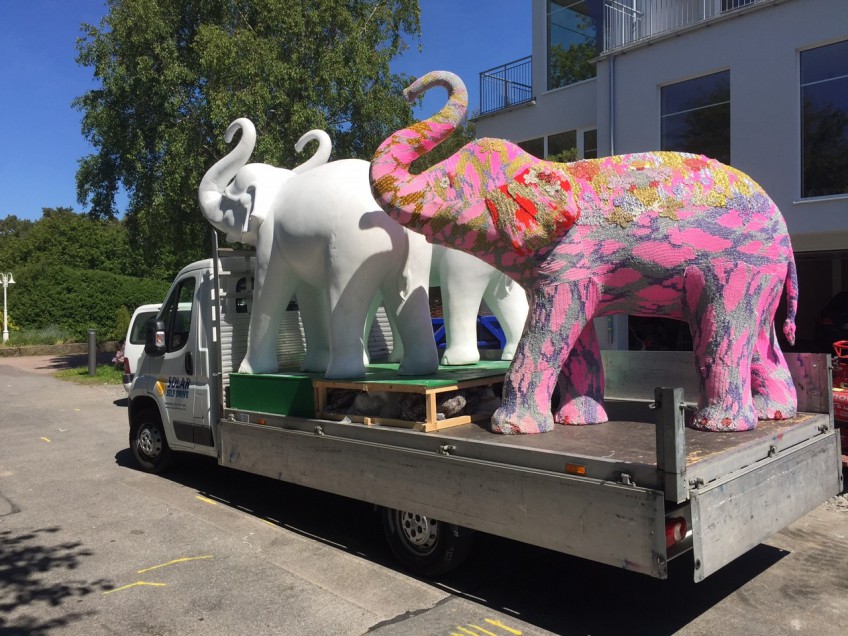 Three of the Elephants arriving Sweden to be decorated by different artists.
The event have got enormus attention in Swedish press and have envolved people all over Sweden. One of the Elephants was decorated by Grannas in Mora, Grannas is famous for creating the Swedish "Dala Horse" with traditions back to 15th centuary.
We would like to thank Grannas for decorating the "Dala Fant", Sörängets Blästerservice for painting and cleaneing the elephant and Pro Chroma för suporting The Perfect World Foundation with the paint! Thank you all! Furthermore we thank Gothia Towers for the suport letting us use the Hotel to bring awareness around the ongoing extinction of Rhinos and Elephants. Helena Blomljus for creating the fantastic golden Elephant that are bringing so much light, Elisabeth Rippe for decorating "Nosse" the rhino, Peter Sköld för decorating "Runny" the rhino, Agata Olek for knitting the soft Elephant, Universeum for leeting us use "Nosse" etc.